News
Quixant announce partnership with Elas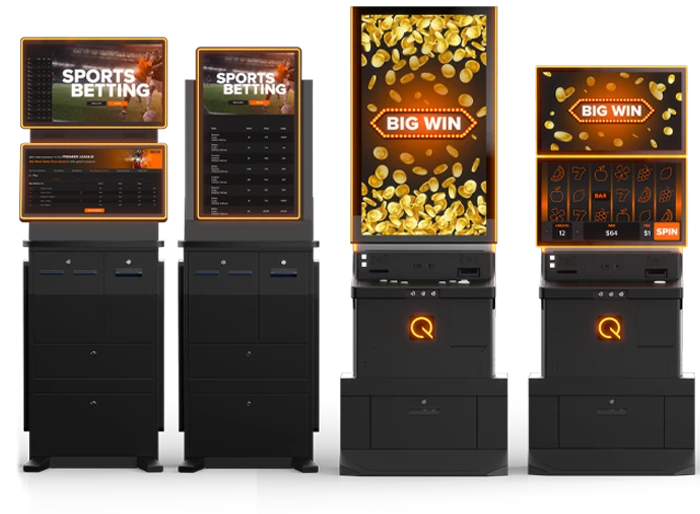 Quixant announce partnership with Elas to enhance gaming and sports betting cabinet offering for the EMEA market.

We are pleased to announce our partnership with Elas for the exclusive manufacturing of our Quantum and Qinetic cabinet, kiosk and betting terminal solutions to the EMEA market.
As an organisation who has prided itself in its ability to identify products that fit the needs of the market and deliver these outsourced solutions in an optimal time frame, we are undergoing our latest product evolution with the delivery of our fully integrated gaming cabinet and sports betting kiosk and terminal range. Powered by our market leading hardware platforms, the solutions enable customers to outsource with confidence, leveraging the unrivalled benefits of our embedded hardware platforms, and extensive sector specific expertise.
With the Quantum and Qinetic range being successfully deployed in the US market, the natural progression was to develop a strategic EMEA partnership to enable Quixant to effectively fulfil the ever-growing demand from this region.
Elas, who are based in Bosnia, have long been a subcontractor of choice for leading players in the EMEA slot and betting terminal market, and are purveyors of high quality, aesthetically pleasing, and highly reliable products in every project they undertake.
Reflecting on the partnership Leo Bateman, VP of Business Development – EMEA at Quixant, commented: "We are extremely pleased to finalise the partnership with Elas. Our integrated cabinet and kiosk roadmap is a fundamental part of Quixant's future technology strategy, and a major objective for us was identifying and selecting a manufacturing partner who shared our engrained ethos of quality, reliability, and sustainability so we can provide an enhanced product and service offering to our EMEA customers. We are truly confident that this partnership with Elas will enable us to deliver more of the solutions to the market that not only match, but exceed expectations, both in the quality of the products, and the delivery and service."
Bateman continued: "Our range of gaming changing cabinet, sports betting terminal and kiosk solutions have been providing customers in the US with fully populated, easy to integrate, and ready to deploy solutions that expedite the time that it takes them to get their products to market. This new partnership – tailored to the needs of the EMEA market – means that we can further expedite that process for customers in the EMEA region, whilst offering further operational efficiencies."
Elas' R&D Manager, Bojan Knezevic, added: "We have been designing best in class gaming machines for almost thirty years, with both off-the-shelf and fully bespoke offerings, to an extensive variety of high-tier suppliers to the global gaming industry. As a respected leading suppliers of hardware platforms to the market moving to the next exciting and innovative offering, we are delighted to join forces with Quixant in this new venture to better enable the EMEA gaming and sports betting market."
Knezevic concluded: "It is great to see the partnership move forward, with the first product prototypes to enter the market imminently, where the recipients of these products will soon be able to realise the benefits of this collaboration."
Get your cabinets to market faster