About
We develop hardware platforms, cabinets, kiosks, and software solutions with endless possibilities, so you can deliver the best content and customer experience.
We are entirely focused on delivering innovation to the gaming and sports betting sector. Our global engineering team partner with and support you along the way to ensure seamless integration of all elements of your gaming cabinet or sports betting terminal or kiosk, ensuring enhanced performance.
There are no limits to what you can develop with Quixant. Our range of hardware platforms, software solutions, turnkey cabinets, kiosks and terminals and accessories have been expertly designed to meet the needs of the gaming and sports betting industries. Our exclusive focus on these industries means we can supply the products you need to help unleash your creativity and design the best content on the planet. With Quixant, you know we are with you every step of the way – through every pixel, and every play – so you can deliver experiences like no others.

We are truly focused on your industry, providing tailored solutions to gaming and sports betting requirements.

You can rely on our expertise to support you through your development journey and beyond.

Our global supply-chain solutions reduce lead times and help you get your products to market faster.

Quality, customizable solutions
We have the high-quality, customizable solutions you need, suited to your budget.

We bring our customers the best in innovative technology, and continually invest in research and development to keep you ahead of the game.
WHY CHOOSE QUIXANT
Quixant focuses 100% on gaming and sports betting technology – it's all we do. It means that when difficult decisions need to be made, the needs of the markets we operate in are absolutely prioritized. Our R&D is also single-mindedly focused on the only sector we do business in, and we keep your needs firmly in mind at all times, providing tailored solutions for your requirements, and supporting you every step of the way.

Including global customer support from the same teams who conceptualize and develop Quixant's solutions.

Dedicated technical teams across the globe are available to support your product integration efforts.

Our secure customer portal, which provides additional support with downloadable software, documentation, example code and whitepapers, plus the ability to raise tickets when you need support.
GLOBAL SUPPLY CHAINS
Our role is to take away the pain of procuring components – and thanks to our global supply chains, we can reduce lead times, deliver products speedily wherever you are, and help you get your products to market faster.
Although crises like the Covid pandemic are extremely rare, interruptions to supply chains can happen – and we are here to protect your business from disruption when it does. You can depend on our extensive supply-chain knowledge and expertise, exceptional supplier relationships, and willingness to go above and beyond to make sure you get the components you need, when you need them.
During the pandemic, our number-one focus was making sure our customers could respond to demand and get their own products to market. Our expedited lead times, and understanding of the ongoing requirements of our partners, so we can look ahead and work around any upcoming supply-chain issues. And if components aren not available, we develop creative solutions, reconfiguring our products with quality compliant equivalents.
SUPPORT AND CONSULTANCY
We can help and support you throughout your development and delivery journey, from buying and installing, to seamless integration, and beyond.
Ongoing support is included in the purchase of your board  or cabinet or kiosk – we see ourselves as an extension of your team, so we are happy to work closely with you and use our expertise to help you get the most out of your product.
R&D INVESTMENT
To ensure we are at the forefront of innovation, we keep up to date with what is going on with the industry through market research, and conversations with our customers and industry partners. We then invest our R&D based on these insights to ensure our products and solutions meet the evolving needs of the industry.
With a forward thinking approach, we invest in research, new technologies, and the right people to make game-changing products thats fulfill our customer's needs and exceed their expectations.
However, we are not about technology for technology's sake. Quixant's unique, sector-specific focus means we only develop products that meet this market's needs, so you can access the right product that's the right power at the right price for you.
Our partnerships mean our customers gain early access to all the latest content optimizing products. Whether we are sourcing faster, more reliable processors, adding new connectors for wider compatibility or improving performance, you will be the first to benefit.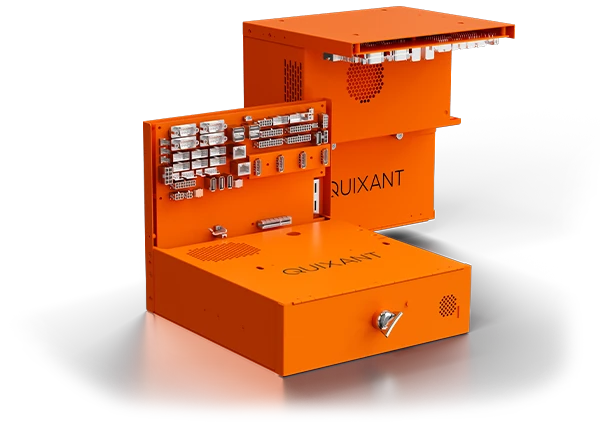 We are as passionate about our employees as we are about our business and always on the lookout for talented individuals to join us. Explore our current group vacancies.

Explore our latest news and browse the events we are attending or exhibiting at.